We've all heard the dangers of eating fast food and what it does to our bodies. Everything from childhood obesity to cancers and heart failure. So what are they putting in our food to cause these health problems?
Let's break it down starting with the main ingredient: the meat. The beef and chicken are loaded with GMO's and are not 100% beef and chicken as they claim.
Most fast food meats are made from mechanically-separated
chicken and beef. Mechanically
-separated meat
is a mixture of bone and animal carcasses. This means that there is more than just chicken and beef meat in the nuggets and patties. They also include bone and entrails. Mechanical separation turns the carcass into a mush so it's easier to mold into the unrealistic shapes we see in our fast food joints. As a former fast food manager, I know the inside scoop on a what this "food" looks like before it's cooked. Many of the pictures you see and stories you read floating around the internet are very true.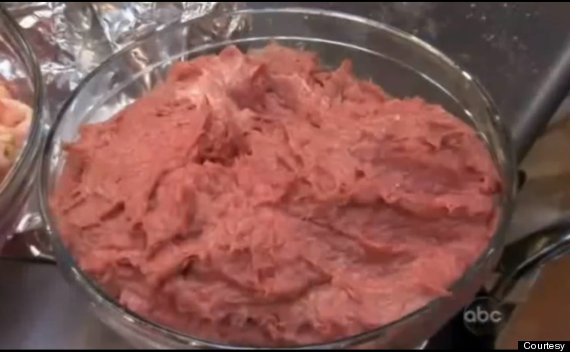 I found this picture on a Huffpost Taste newsletter; this is what mechanically-separated meat looks like.
Strangely enough, when the nuggets and patties are left out, they melt into a puddle of goo and slime just like this picture.
Next ingredient: gelatin. Gelatin is made from boiling skins, bones, and hides from cows and pigs.
Boiling these bones and hides releases the collagen which they filter, dry, then ground down to a fine powder. Lastly, they add it to the meats we then ingest.
Cochineal (aka Carmine or Carminic Acid): This is another disturbing ingredient. It is made from grinding coccus beetles. Grinding these beetles up produces a red dye which is used to color meats, juices, shakes, frappes and candies. I'm not just going after fast food here; it's put in everything.
MSG is also found in a lot of food. It's a flavor enhancer and, according to medical sites such as Web-MD, has been known to cause headaches, shortness of breath, chest pain and fatigue. These are very serious reactions that can cause fatality in our very young children.
These chemicals and additives can lead to Type 2 diabetes, heart failure (among other cardiovascular problems), obesity and even death.
I recently read an article on http://www.
healthyeating.sfgate.com
stating that a study conducted in Canada back in 2005 showed people are 2.52 times more likely to die from heart failure by
consuming fast food
than those who don't. Also, in 2010, Australia did the same study and found a ten percent increase in cardiovascular problems related to consuming fast food.
Since cutting fast food out completely and being more mindful of what we buy to prepare for our family, we in my family find ourselves more energetic and over all healthier. My suggestion is to start eating more organic foods. I know it's hard to be completely chemical free, but try buying your meats and produce from farmers who choose to raise livestock without added hormones and antibiotics. Farmer's markets are a great place to get fresh and healthy produce without breaking your budget. Replace those fast food meals with easy-to-make and healthful meals.
Here are two recipes I found on Greatist.com that I will also be trying. It's only reasonable to start with the most important meal of the day: breakfast.
1 1/4 cup almond milk, divided
1 banana, 1/2 mashed, 1/2 cut into slices
1/2 teaspoon vanilla extract
Directions
1. Bring quinoa, 1 cup almond milk, water, and 1 dash salt to a boil in a small pot.
2. Reduce heat to a simmer and cook, stirring occasionally, until all liquid has been absorbed, about 10 minutes. Remove quinoa from stove and transfer to a bowl.
3. Mix in mashed banana, honey, cocoa powder, and vanilla. Stir until evenly combined. Pour remaining 1/4 cup of almond milk over quinoa, and garnish with banana slices and some mint.
This looks
absolutely
amazing! This could be either Lunch or dinner. Salmon is one of mine and my daughter's favorite dishes and here is a great recipe to try!
Only 7 Ingredients
1 large clove garlic, minced
2 tablespoons low-sodium soy sauce or tamari
2 tablespoon rice vinegar
1 teaspoon minced or pureed ginger root
2-3 skinless wild salmon fillets
2-3 tablespoons white sesame seeds
1. In a zip-top bag, combine garlic, soy sauce, rice vinegar, ginger, and chili flakes. Place salmon fillets in the bag and let them marinate in the fridge for at least an hour.
2. Preheat oven to 375 degrees.
3. Pour sesame seeds onto a plate and shake the plate slightly so that they scatter into a single layer. Lay salmon fillets face-down in sesame seeds to coat the top.
4. Place crusted salmon on a baking sheet lined with parchment paper. Bake for 15 to 20 minutes, depending on fillet thickness. If you like, switch the oven to broil for the final minute of cooking to lightly toast sesame seeds.
Try these recipes and others on
Greatist.com
. and look for upcoming blogs on healthier living.
Christina Peck
http://www.neshamahessentials.com